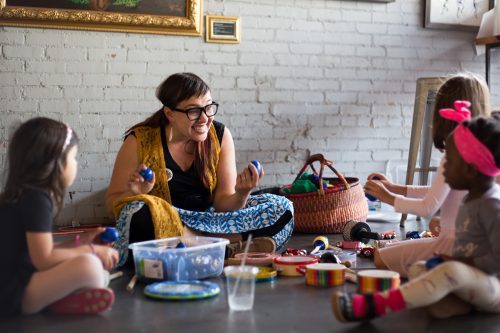 looking for something different for your child's birthday? celebrate with Allegro!
Share the fun, excitement and joy of Allegro music classes as a party experience – with your child as the guest of honor!
Allegro is excited to offer music class birthday parties.  Miss Cathy brings music class to you! All the singing, dancing and instrument fun that we have in class, and you can tailor the song list to your child's liking. We can make a song list based on any theme, or can make a playlist of your child's favorite music class songs. For an extra charge, we can also provide music themed favors for your guests.
We offer parties at the location of your choice – whether that is your house, or another location. We can also suggest places that work great for music class parties! Miss Cathy provides 45 minutes of party entertainment styled after your typical music class experience. We will bring all the instruments, music, and props to you. Allegro birthday parties are energetic and fun, and your guests will be dancing and singing!
other questions? Email us at cathy@allegroathens.com or call us at 706.510.6995. You can also message our Facebook page here. We'd love to talk to you about your birthday party and celebrate with you!